SPbCTF announces
blzh

quest

The contest will run on-site at PHDays for the two days of conference—begins May 15th at 13:37 UTC+3, ends on May 16th at 16:00. Right now you can sign-up at the taskboard and check game VPN connectivity. blzhquest is an individual contest, no teams.

For you we have prepared 21 challenges, and a ton of gifts. blzh has arranged the tasks into a pyramid: the bottom (sixth) level is open to everyone right away, and to get to next level's challenge you need to solve one of 2 challs below it. Main goal is to be the first to reach blzh at pyramid's top by solving the top challenge. If you're lucky with your path, you can do that just by solving 6 challs :)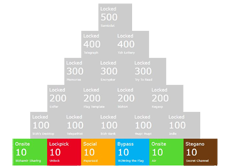 We will have two winners: the guy who first reaches blzh and the guy who has most points at the end. Those two challengers will get the grand prizes. Maybe it will be the same person—then she'll take both awards.
Besides two winners, we have some gifts for progress:
👻 First 30 people to submit a flag from 6th level will get a unique blzh sticker
🍪 First 20 to submit a 5th level—blzhquest macaroon
🍫 First 10 from 4th level—CTFtime gingerbread
📱 First 5 from 3rd level—Japanese screen wipe
🛡 First 3 from 2nd level—liquid screen protection
🏆 First 1 from 1st level—reached blzh and won :)
We will announce winners on our Telegram channel. Have any questions? Find orgas on-site at the stand, DM them in Telegram, or join the groupchat: t.me/spbctf
Our stand is in the PHDays CTF hall, to the right and behind you if you face the main scene.
See you in Telegram and on e-mail!
Announcements channel: t.me/blzhquest
Chat: t.me/spbctf
E-mail: hackyou@ctf.su